(518) 696-2394

Open THUR • 4:00 p.m.
FRI, SAT & SUN • NOON
Closed MON, TUE & WED
Re-opening on Friday May 5th, 2023 for our
43rd

year!

Check out our article in Adirondack Life!

For over 150 years you could gaze at the surrounding mountains, breathe the fresh air, listen to the tunes of live music, smell the "good cookin'" wafting from the kitchen, visit with friends & strangers alike, and just kick back and enjoy life.

Today you can enjoy those same pleasures sitting on the porch of the Stony Creek Inn.

Located in the "Biggest Little Town in New York State" at the four corners - downtown Stony Creek, the Inn is nestled in the hub of the Southern Adirondack mountains within a half hour of Lake George, Queensbury, Glens Falls, Saratoga or the Gore Mountain Region.

Owner / Operator, Dot Bartell with her husband John Fickel are proud to have, for 35 years, provided a unique establishment with simple roots; good food & music, reasonable prices & a comfortable friendly setting to relax and enjoy family and friends.

Stony Creek Inn customers have nothing and much in common. They are diverse in age, culture, background, talent, careers & interests. They have a common love and appreciation for the Inn, for the friendships forged here and for the good memories they take with them.

To all our customers, thank you. To all else, try us - you might like us!

Dotty Bartell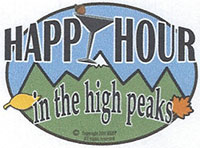 High Peaks Happy Hour: Stony Creek Inn
By Kim Ladd and Pam Ladd
Our most frequently frequented bar since the start of our drinking careers, something about the Stony Creek Inn just keeps luring us back year after year.
---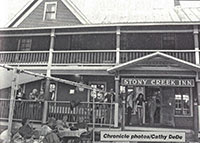 Stony Creek Inn, where have you been all my life?
By Cathy DeDe, July 31, 2014 - The Chronicle
It took us less than 30 minutes to drive from downtown Glens Falls to the Inn.
"Out There" in Stony Creek?
It's not so far!
WOW, our food was good. ...the spirit was light and lively, the dance floor busy, the blues smart, funny, deep and growly. (Folding Sky Band with Mark Emanation)
Kids and grandmas danced. So did the beautiful Adirondackers – A convivial crowd of kayak types, bikers, cowboys, locals and summer folks. Long pony tails on men and women, tank tops and skirts, jeans and cowboy hats, two-step specialists, rock and roll hip-swingers and regular folk of all stripes: everyone seemed just in it for the fun.

Adirondack Restaurant
"Something for Everyone"
Our menu is a guide. Special Requests are honored. Reservations are appreciated.
"Excellent food, always cooked to order at an amazingly low price, world-class musicians, a variety of friendly, happy patrons whose camaraderie and grinning faces are contagious, and a dance floor packed with uninhibited, twirling, foot-stomping glee. The scrumptious smells from the kitchen follow you inside and outside - there is no escape - you will have to eat something while you're here." - By Kim & Pam Ladd @ Adirondack Almanac
"Newcomers are always surprised at the great variety and value of the food at the Stony Creek Inn. "Try the Inn for dinner one night. It's a beautiful ride. We always eat at the Inn at least twice!" - posted on tour-expo.com "Best Eatin' Places"
Customers declare, "This place is better than the Real Restaurants we go to" and, "This is Real Food." Therefore, the Inn commands the phrase, "The unreal place for real food."
DAILY FULL MENU INCLUDES LITE FARE, DINNERS & SPECIALS
Price range from Inexpensive to Moderately Priced
PLATTERS served with fires & cole slaw
BURGERS hand packed. Chosen for the top ten "best" burgers in the area by Adirondack Life Magazine.
CHICKEN CUTLETS, ROAST BEEF, FISH FILLETS all served with fries and cole slaw.
FRENCH FRIES hand cut & deep fried from real potatoes
SALADS chock full of veggies, fresh made with Romaine & Mixed Greens. Favorite In-House dressings: Creamy Garlic & Bleu Cheese.
STUFFED JALOPENOS our own blend of cheese and spices stuffed in a fresh jalapeño pepper half and baked
PIZZA 16 inch house baked crust with mozzarella cheese & fresh toppings
CHICKEN WINGS & TENDERS, ONION RINGS, SANDWICHES, NACHOS, MOZERELLA STICKS
DINNERS SERVED 5-10pm
Dinners are cooked to order. Served with our own rice pilaf, potato or pasta with house marinara sauce & garlic bread.
TOP SIRLOIN, PRIME RIB & PORK LOIN seasoned and roasted
NY STRIP & DELMONICO RIB EYE STEAKS cut to order, light garlic & black pepper, pan fried and finished with a splash of worcestershire sauce


Steak Options:
House Special: Topped with Blue Cheese and Jalapeños
Au Poivre: Coarse peppered with a demi-glaze & marsala
Cajun: Generously coated with our own Cajun spice.

SEAFOOD shrimp, bay scallops, fresh fish fillets featuring scampi, dijon, cajun, fried & fra diablo styles
CHICKEN & PORK CUTLET hand breaded and pan fried.
parmigiana, cordon bleu, mushroom marsala with swiss
CHEFS CHOICE daily specialty dinners, appetizers, salads & desserts
HOUSE DESSERTS brownie sundaes & NY Cheesecake with toppings

Weddings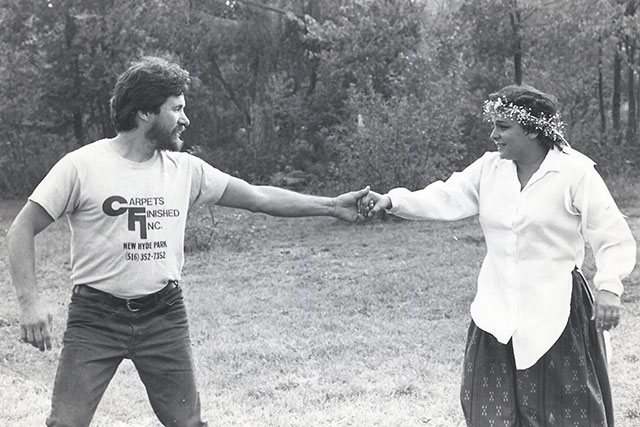 Enjoying our wedding at the Inn

CATERING - On or Off Premise
Occasions are meant to celebrate and we do that well! Weddings, showers & rehearsal dinners, anniversaries, birthdays (Our youngest party patron turning 1), graduations, baby showers, retirement parties, business & club meetings, reunions or just plain because. Lunch or dinner.
Our semi-private back room accommodates approximately 35 people. The Inn seats 100-125 and our adjoining backyard offers plenty more space. We can utilize inside, outside or both for food, music & dancing.
We can service your event from soup to nuts or you can do your own thing.
From backyard BBQ's, buffets or sit down service, we will customize your menu to suit your palate and pocketbook. Your guests will leave happy - whatever the occasion.
"To Everyone at the Inn, We can't thank you enough for all you did. The wedding was perfect. It was so magical. The flowers were beautiful! You took care of everything and made us feel so special." - The Gruszkowski's
"Thank you for being such awesome people and for helping to make our 24th anniversary an evening to remember. We really appreciate your wonderful hospitality." - Jan & Clarence

Entertainment - Music - Music - Music - Special Events
The Inn is a long time musicians favorite place to perform, and why not? The stage is large with great acoustics from the all-wood interior. The audience is enthusiastic for music that feeds their souls. Did I mention - We love to dance! The dance floor fills with kids of all ages and the joint does indeed jump!

The caliber of musicians and the variety of music booked at the Inn is some of the best in the country. Musicians are encouraged and proud to perform their original music.

On the home stage for the regionally renowned Stony Creek Band, the Inn presents bands performing music from Country, Blues, R&B, Rock-n-Roll, Bluegrass, Swing, Rock-a-billy & Jazz to the occasional Square Dance.

The Friday night combo of acoustic music & dinner special is the perfect setting to wind down your week and wind up your weekend.

Sunday night music features top regional bands with Mexican Fare enjoyed in a casual family atmosphere.
2023 MUSIC SCHEDULE COMING SOON!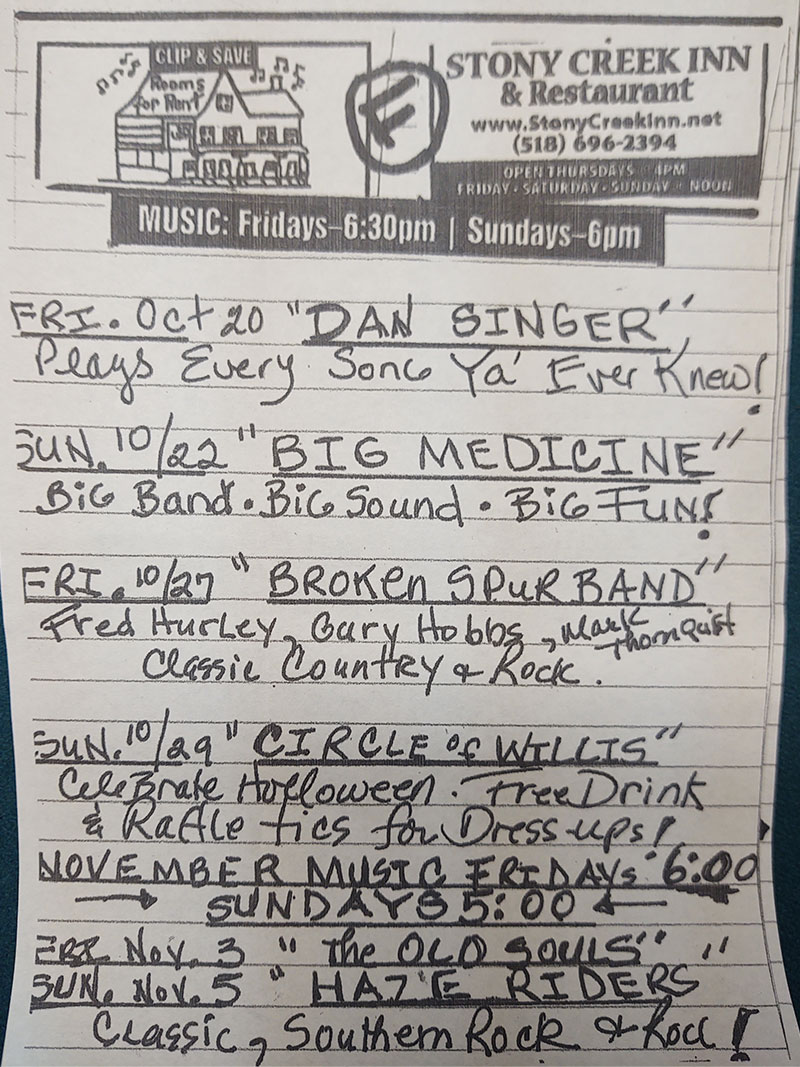 ---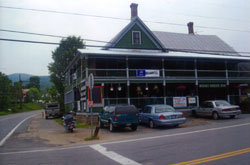 Lodging - there's room at the Inn
While visiting the Inn for its great music, food & eclectic clientèle is an experience; staying at the Inn is an adventure.
An upstairs porch provides a birds-eye view of the comings and goings of our small town. It's a place for true R&R with limited cell phone service. Be my guest for the Inn's phone use.

Accommodations:
3 Rooms - each with a double bed
2 Rooms - one double bunk and one bunk with a couch - sleeps 4
2 Full Bathrooms share the floor
1 Suite with 2 adjoining rooms with a private bathroom
1 Studio Apartment with bathroom, refrigerator and stove with 2 adjoining rooms.

Amenities:
Clean Sheets & Plenty of Hot Water
No Telephones, TV's or keys for rooms (lock from the inside - house safe available)
Pets - OK - as long as they behave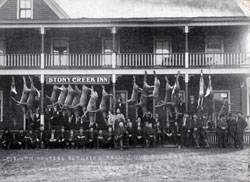 The Inn's rooms are a step above camping - only not as pricey. Nightly & Weekly rates are available.
Who stays at the Inn?
Locals wanting to enjoy a really good time or to accommodate visiting friends and family
Families stay & save! Close to the Lake George & Saratoga Region attractions
Tourists those with advance reservations or just lucky to stumble across us.
Outdoor Enthusiasts, sportsmen, hikers, bikers & canoeists
Temporary Quarters working in the area? Need a place to stay? The Inn is perfect!
If you need private lodging for a group up to 6 or just want a secluded Adirondack experience, it's just 3 miles to the Moon Shadow Lodge and the Nest Guest Cottage. www.adkmoonshadowlodge.com

Stony Creek Directions - Just Minutes Away & a Beautiful Ride!
10 Minutes from Hadley/Luzerne
20 Minutes from Lake George
30 Minutes from Queensbury
40 Minutes from Saratoga
From the North
From I-87 take exit 23, turning right at the light into Warrensburg. Travel north on 9N through the village to the traffic light intersection with Rte. 418. Turn left on Rte. 418, take the first right after crossing the bridge. Follow Rte. 418 along the river for 12 miles to the main intersection in Stony Creek. The Inn is on the corner.

From the South
From I-87 take exit 21, turning left onto Rte. 9N. Travel approximately 8 miles to the village of Lake Luzerne. Just past the Central School take a right into the business district, bearing left at the bottom of the hill. Turn right at Stone's Pharmacy and cross the Hudson River. At the first intersection take a right toward Stony Creek. Travel 12 miles to main intersection in the center of Stony Creek. The Inn is on the corner.
Things to do around town:
Enjoy a cocktail at nearby Tavern 16
Breakfast, Coffee & Conversation at the Stony Creek Marketplace
Golfing - Bend in the River & Cronin's Golf Course
Hiking & Water World - canoe, kayak, fish, swim & whitewater rafting
Horse Back Riding - Wolf Pond Stables & Stony Creek Resort Ranch w/ weekly rodeo.