(518) 696-2394

Open THUR • 4:00 p.m.
FRI, SAT & SUN • NOON
Closed MON & TUE
Closed WED in May


The Stony Creek Inn & Restaurant
Spring Opens 34th Year!
SATURDAY APRIL 26th @ Noon
Lite Fare Menu
4pm OPEN MIKE JAM
SUNDAY APRIL 27th @ 6pm
STONY CREEK BAND
Mexican Menu from 5-10
The Stony Creek Inn is a special place. Over 150 years ago you could sit on the porch of the Inn, gaze at the surrounding mountains, breathe the fresh air, listen to the tunes of live music, smell the "good cookin'" wafting from the kitchen, visit with friends & strangers alike, and just kick back and enjoy life.
Today you can enjoy those same pleasures sitting on the porch of the Stony Creek Inn.
Located in the "Biggest Little Town in New York State" at the four corners - downtown Stony Creek, the Inn is nestled in the Adirondack mountains about a half hour trip from Lake George, Saratoga or the Gore Mountain Region.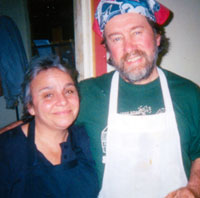 Owner / Operator, Dot Bartell with her husband John Fickel, have run the Inn for over 34 years. They have provided a unique establishment with simple roots; good food & music, reasonable prices & a comfortable friendly setting to relax and enjoy family and friends.
Stony Creek Inn customers have nothing and much in common. They are diverse in age, culture, background, talent, careers & interests.
They have a common love and appreciation for the Inn, for the friendships forged here and for the good memories they take with them.
To all our customers, thank you. To all else, try us - you might like us!
Dotty Bartell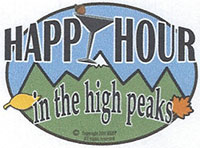 High Peaks Happy Hour: Stony Creek Inn
By Kim Ladd and Pam Ladd
Our most frequently frequented bar since the start of our drinking careers, something about the Stony Creek Inn just keeps luring us back year after year. As winter surrenders to spring, we count down the days until reopening, marking our calendars to keep the date free of other conflicts, and reminding our friends to save the day.
Diminutive Dotty can be spotted darting throughout the dining area - meeting, greeting and seating diners. John is in the kitchen but makes frequent appearances, usually wearing a stained apron over shorts, a bandanna covering his head.
---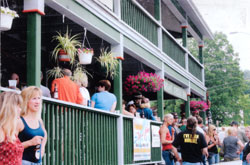 What's Happening in May?
Open Thur @ 4pm
Fri, Sat & Sun @ Noon

• Thursdays •
$5 & $10 Menu Including Burgers, Roast Pork, Sirloin & Turkey Dinners & More!
• Fridays •
"Can't Beat It Special" 2 for $30 Dinners. NY Strip, Prime Rib, Surf n' Turf
• Saturdays •
Yummy Buffet Including Soup, Salad & Dessert for $15
Chef's Choice Dinner Specials
• Sundays •
Mexican Menu 5-10 pm
Lite Fare, Steaks, Burgers, Pizza & More!
---
Closed Mondays & Tuesdays
Closed Wednesdays in May
---
Sunday Mexican Menu

"Sunday Night the joint really jumps when there's great Mexican Food & Local Bands"
The Adirondack Book, A Complete Guide
4th Edition
From 5-10pm on Sundays, the Inn serves from-scratch Mexican Fare. Contrary to popular belief, all Mexican food is not hot & spicy. We prepare homemade salsas, red & "Hot" green to add to your liking.
Nacho Chips & Taco Shells are Fried fresh
Our own salsa, guacamole, sauces, Mexican red rice & refried beans
Beef for tacos, burritos, enchiladas, tostadas - seasoned roast chuck with added ground beef
Chicken Breast Strips fixed in a light tomato cumin sauce
Chef's Specials - Mexican & American
Pleased guests remark, "An oasis in a desert", & "The only place we eat Mexican."
Lite Fare also available on Sundays including pizza, platters, chicken wings, sandwiches and steak dinners.
Adirondack Restaurant
"Something for Everyone"
Our menu is a guide. Special Requests are honored. Reservations are appreciated.
"Excellent food, always cooked to order at an amazingly low price, world-class musicians, a variety of friendly, happy patrons whose camaraderie and grinning faces are contagious, and a dance floor packed with uninhibited, twirling, foot-stomping glee. The scrumptious smells from the kitchen follow you inside and outside - there is no escape - you will have to eat something while you're here." - By Kim & Pam Ladd @ Adirondack Almanac
"Newcomers are always surprised at the great variety and value of the food at the Stony Creek Inn. "Try the Inn for dinner one night. It's a beautiful ride. We always eat at the Inn at least twice!" - posted on tour-expo.com "Best Eatin' Places"
"We were pleasantly surprised and pleased. We enjoyed the service, the atmosphere, the prices and the friendliness. And we thought the menu was fabulous." - By Warren & Mary Lessing
Customers declare, "This place is better than the Real Restaurants we go to" and, "This is Real Food." Therefore, the Inn commands the phrase, "The unreal place for real food."
DAILY FULL MENU INCLUDES LITE FARE, DINNERS & SPECIALS
Price range from Inexpensive to Moderately Priced
BURGERS hand packed. Chosen for the top ten "best" burgers in the area by Adirondack Life Magazine.
FRENCH FRIES hand cut & deep fried from real potatoes
FRESH PORK
CHICKEN CUTLETS boneless hand breaded and pan fried
PLATTERS served with fires & cole slaw
SALADS chock full of veggies, fresh made with Romaine & Mixed Greens. Favorite In-House dressings: Creamy Garlic & Bleu Cheese.
STUFFED JALOPENOS our own blend of cheese and spices stuffed in a fresh jalapeño pepper half and baked
PIZZA 16 inch house baked crust with mozzarella cheese & fresh toppings
CHICKEN WINGS & TENDERS, ONION RINGS, SANDWICHES, NACHOS, MOZERELLA STICKS
DINNERS SERVED 5-10pm
Dinners are cooked to order. Served with our own rice pilaf, potato or pasta with house marinara sauce & garlic bread.
TOP SIRLOIN, PRIME RIB & PORK LOIN seasoned and roasted
NY STRIP & DELMONICO RIB EYE STEAKS cut to order, light garlic & black pepper, pan fried and finished with a splash of worcestershire sauce


Steak Options:
Au Poivre: Coarse peppered with a demi-glaze & marsala
Murphy: Sautéed mushrooms & jalapeños with brandy
Marsala: Sautéed mushrooms & onions with marsala wine
Cajun: Generously coated with our own Cajun spice.

SEAFOOD shrimp, bay scallops, catfish, tilapia featuring scampi, dijon, cajun, fried & fra diablo styles
CHICKEN & PORK CUTLET PARMIGIANA with pasta
CHICKEN cajun & cordon Bleu
CHEFS CHOICE daily specialty dinners, appetizers, salads & desserts
HOUSE DESSERTS brownie sundaes & NY Cheesecake with toppings
Weddings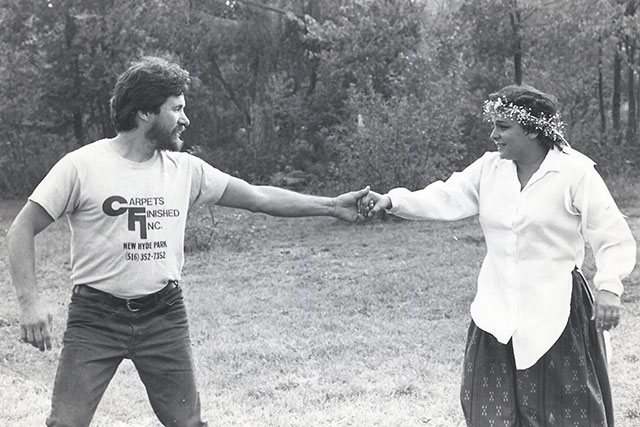 Enjoying our wedding at the Inn

CATERING - On or Off Premise
Occasions are meant to celebrate and we do that well! Weddings, showers & rehearsal dinners, anniversaries, birthdays (Our youngest party patron turning 1), graduations, baby showers, retirement parties, business & club meetings, reunions or just plain because. Lunch or dinner.
Our semi-private back room accommodates approximately 35 people. The Inn seats 100-125 and our adjoining backyard offers plenty more space. We can utilize inside, outside or both for food, music & dancing.
We can service your event from soup to nuts or you can do your own thing.
From backyard BBQ's, buffets or sit down service, we will customize your menu to suit your palate and pocketbook. Your guests will leave happy - whatever the occasion.
"To Everyone at the Inn, We can't thank you enough for all you did. The wedding was perfect. It was so magical. The flowers were beautiful! You took care of everything and made us feel so special." - The Gruszkowski's
"Thank you for being such awesome people and for helping to make our 24th anniversary an evening to remember. We really appreciate your wonderful hospitality." - Jan & Clarence